What We Are Doing
Waterlight - a Film about a Chalk Stream
Saturday 26th March was a great opportunity both to meet up with fellow "Greenies" and to learn more about the amazing wildlife that we have on our doorsteps in Martinstown. Nigel Tooth shared his photographs of the large variety of bird species he has encountered here over the years and Colin Tracy followed with close ups of insects he'd found in his garden. We enjoyed a sumptuous supper and the evening closed with a film about a chalk stream similar to our Winterbourne, demonstrating how to care for it.
Many thanks to all who contributed to a lovely evening.
Katie Wilkinson
As HEDGEHOGS emerge from their winter hibernation, can we please watch out for them? They are so vulnerable - so here are a few suggestions for what we can all do to help them:
if you know they visit your garden, provide a meal of the specialised hedgehog food available in garden centres

put out a shallow dish of water

a log pile is irresistible to them, as is a pile of leaves

beware when using your fork in a compost heap to avoid a sleeping hog

provide small gaps in your fencing at ground level

if you have a pond, make sure there's a means of climbing out to safety

do take especial care if driving through the village in the dark

please try to avoid using slug pellets: whilst they kill slugs, they also then kill the creatures that feed upon them. Allow the hedgehogs to do the job of dealing with slugs for you!
Let's do all we can to protect this wonderful creature and help our village population to flourish.
KW
73 Trees Are Now Planted!!
Green Martinstown has just completed its largest project to date and a huge Thank You to Deborah and Andy Daw for all their hard work in master-minding the planting. This included a very detailed list of who has dedicated which tree to whom, what type of tree and who was to plant it. It also included the buying of the trees and all the other materials such as tree guards, mulch mats, pegs, number discs and so on.
This was part of the Queen's Green Canopy project which is to celebrate the Queen's 70th jubilee next year. So we decided to plant 70 trees - all native broadleaf trees which include beech, silver birch, field maple, alder, wild cherry, hornbeam and bird cherry. They are along the bridle way at Grove Hill Bottom.
Thank you also to all who have donated, planted or helped in other ways. And thank you to Gerald Duke for offering Green Martinstown the land to plant on.
The extra 3 trees? Well there was space for another 3 and it completed the line!!
Other Projects and Achievements
Recycling
We have 2 silver dustbins outside the Village Shop - one for Tetra Pac cartons and one for Aluminium foil and cartons. These are emptied regularly by Green Martinstown members. Please wash and squash items for these bins.
Karen is also collecting the blister packs that pills are supplied in, for recycling - in the shop.
Community Compost Heap
Members have cleared and manage the compost heaps in the churchyard. These are available for all Martinstown residents to use to compost their food scraps and garden clippings. The resulting compost is available when ready, for residents. A donation can be made here on the website. Please do not add cooked food or roots of things like bindweed or nettles. Thank you.
Phone Box
The phone box near the village shop has now been decommissioned bt BT and has been made available to the community by the Parish Council. Once the electrics have been made safe too will be made into a useable space. Ideas that have been put forward so far are: a seed swop, a book exchange and a display with information about Green Martinstown and what we are doing. If you have any other ideas please get in contact.
Village Hall
Residents of the village, including Green Martinstown members have been clearing rubbish and nettles at the rear of the hall to make into a wildflower area. A Rowan tree has been planted.
Blagdon Close and Bus Stop Planting
Much hard work has gone into clearing the area around the car parking space by the bus stop, opposite the end of St. Martinsfield, in preparation for planting a wide selection of wild flower bulbs. These include Wild Garlic and Wild Daffodils, Snowdrops and other spring flowers that can survive in a shady spot. Well done to all those who have contributed.
Valley and Valence Magazine
We have a regular page in the Parish magazine - the Valley and Valence. Look out for regular updates, news of projects and tips on energy saving and other ways to be more sustainable.
Garden Share at Four Acres
Our house may be called Four Acres but actually it is only 0.7. None the less that is a lot of garden for two people and we have long been aware that there are areas of the garden into which we rarely venture, except to mow. One is a square of lawn tucked behind the garage with the road bordering one side and the gravel drive the other.
So when we joined the Green Martinstown initiative, it made sense to offer this space as an allotment, and within a day of mentioning it to the Green Martinstown committee, Annie and Sam were offering to take it on.
It has been a great joy to see the space coming to life, and because Annie is involved, it is already charming with bunting, paving stones, a bench and a runner bean frame erected which doubles as a privacy screen.
Annie and Sam plan to fill the allotment with salad, flowers and vegetables and we have even been promised a share. As far as we can see it is a win/win.
If you have a garden you would like to share please let us know, as we have had requests from people looking to have a garden space to grow vegetables and flowers - and be more self-sufficient.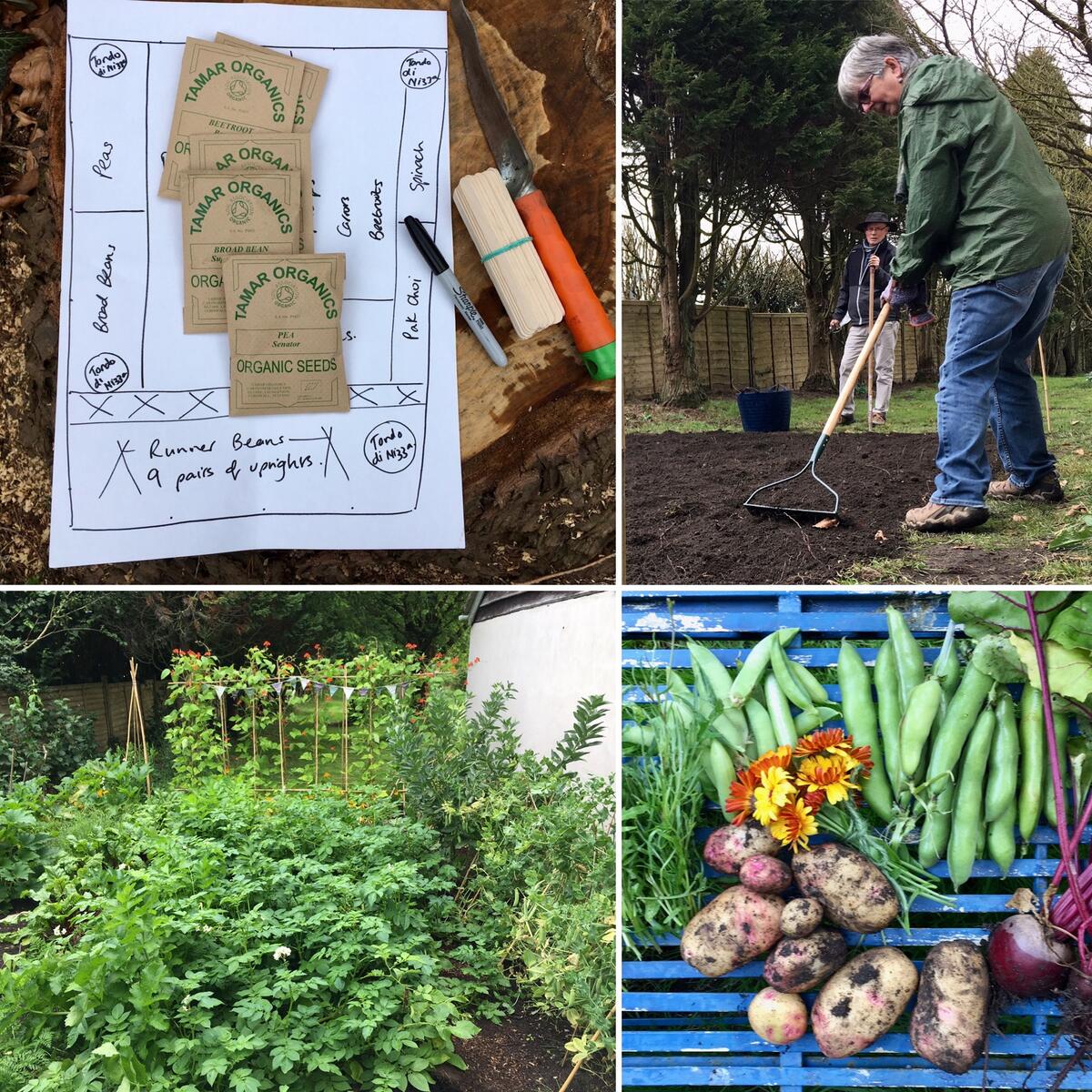 Dorset Community Energy (DCE)
https://www.dorsetcommunityenergy.org.uk/
Late last year Pete West, secretary of Dorset Community Energy, gave a zoom presentation to Green Martinstown about the work they do. DCE is a Community Benefit Company that raises funds to install solar panels on the roofs of public buildings. They fitted the solar panels on the roof of Martinstown village hall as well as on schools in Bridport and Bridport Hospital.
If we can work in conjunction with Dorset Council on their land, or another landowner, or even acquire land of our own – DCE would be willing to offer advice, raise funds through shares and organise installation etc. Have a look at their website!
Footpath/cycle-path between Martinstown and Dorchester.
We are working in conjunction with the council to progress the foot/cycle-path, so there is a safe and mud free route to Dorchester. There is planning for 5 houses in the field north of Park Farm Close which includes a path that will run parallel to the road up to Bats Lane. This would be a good start. Unfortunately, the track to and through Clandon Farm is often water and mud logged, and there will need to be a review to find a solution to this problem.
A good route for pedestrians and cyclists would provide more incentive for people to use their feet or bikes rather than cars!